July 2017
PICNIC AT THE PANACEA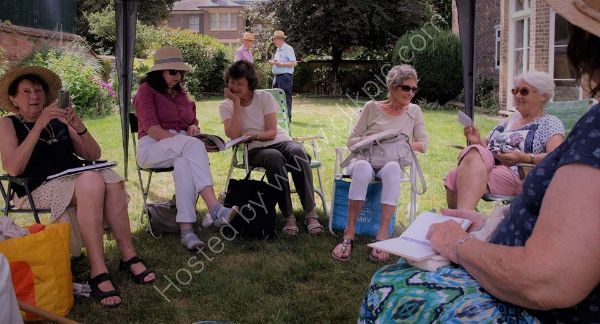 Saturday, 8 July, dawned into a beautiful day. By noon we were setting out chairs, putting up tents, and beginning to lay out the food. Sliced tasty ham, French sticks, cheese…and as people began to arrive with lot of salads, pies, savouries, a feast appeared!
It was hot. But we relaxed in the shade. Under the apple tree was popular. New members and old chatted together. Inevitably the youngest guest was absorbed in her I-phone. Some of us did a tour of the house. Most of us did absolutely nothing except eat, drink and talk together, enjoying the food, getting to know one another better.
Some fitness addicts played boules.
Mostly we just chilled.
Pauline Brown
July meeting with Botanical artist, Sandra Wall Armitage
On 7 July we met at our usual place of Putnoe Heights Church to be shown how to execute a floral painting by botanical artist, Sandra Wall Armitage.
She gave us an outline of her career and its development into the present. She has been a teacher, a greetings card illustrator and demonstrator. She explained her tools, and methods for under-drawing in preparation for her picture, as well as telling us which paper is suited to her work.
She then went on to demonstrate her methods to an audience who had many questions for her.
An interesting talk on a very hot evening, so we thank all our members for turning out.
Diane Bell
London day trip
Saturday, 1 July, ten of us went to London. A beautiful day and our first stop was The Mall Gallery to see the Wildlife Artist of the Year Exhibition. We loved the walruses of Magdalenefjord, wonders in watercolour by Claire Harkess, the John Dory crafted in birch plywood by Bill Prickett, the huge orangutan (260cm high) by David Cooke in bronze. Animals and birds in abundance, like the wonderful hippos painted in oil on aluminium. If you've never been to this exhibition, do go next year.
After lunch in St James Park we went to the Portrait Gallery to see BP Portrait of the Year. The variety of styles and the quality of work was incredible. This exhibition continues so you can still see it.
Both these exhibitions were free. A little weary but happy we caught to No. 91 back to St Pancreas.
Pauline Brown