June 2021
Laura Boswell talkes about Japanese woodblock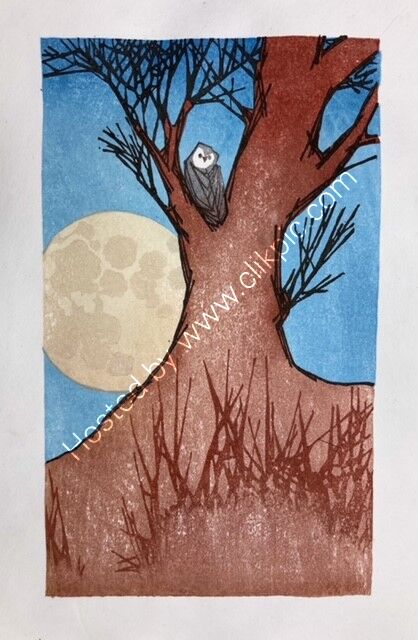 Our Zoom demonstration this month was given by Laura Boswell and she talked about career as a Japanese woodblock printer. She did much of her training in Japan under print masters, learning the skills needed to produce fine Japanese-style pictures.
First, we were treated to a tour round her studio where she showed us her printing presses, the inks, displayed in a very orderly fashion, the spacious hanging racks and the rollers and pads for hand-pressing.
Woodblock printing goes back to work begun in Korea and China before 1603. After that it began to grow in popularity as the economy developed. These first ones were in black and white but after 1740 colour was introduced. Cherry wood was chosen for carving a block as it is easier to use and gives a better surface, but nowadays Laura uses laminated wood for her work.
The original prints would have been commissioned by a publisher who would pass it on to an artist to design the picture. This was then sent to the carver and his apprentices to cut out the design on the wood. From there it was printed, sometimes using several blocks to build up the layers of colour to finish the picture. Each print may have had many carved blocks, so it is a time-consuming and expensive process. Some printmakers had workshops making many copies, but now this is in the hands of more individual artists.
Laura then went on to show us how she would prepare a print, explaining each part as she dampened the wood, spread the inks and then pressed the block, before repeating the method again and again until the picture emerged. She stressed the importance of placing the paper in exactly the same position each time and she showed us how this is achieved.
At the end we saw many examples of her work, which was the end of a fascinating and informative demonstration.
Diane Bell