Annual Events Programme
Monthly programme of talks, lectures & demonstrations.
All meetings held at:
Putnoe Heights Church & Community Centre
Putnoe Heights, Bedford MK41 8EB
Doors open at 7.15 for 7.30 pm.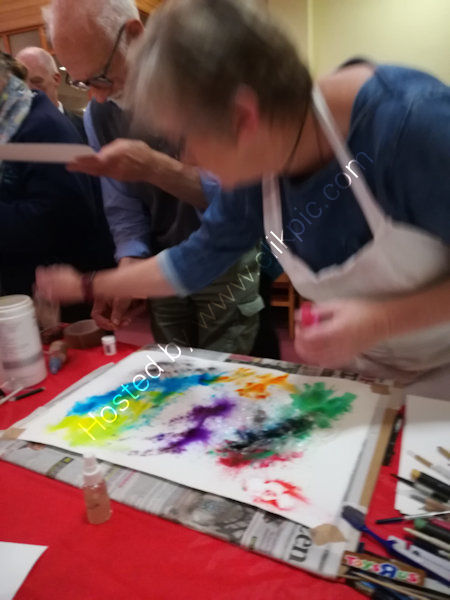 Members free - non-members £5
Events Programme for 2019/20
6th September 2019
Rob Wareing
Paints clothed figures using oils.
(Followed by an oil workshop on 14 September)
4th October 2019
AGM followed by Celia Maddison demonstrating Brusho (powder).
1st November 2019
Pauline Hazelwood
paints trains and planes in watercolour.
6th December 2019
Christmas Crafts.
3rd January 2020
Sarah Janavicius
paints using mixed media.
7th February 2020
David Bennison
,
using oils, plays with perspective …Curvilinear.
6th March 2020
Tim Fisher
demonstrates oil pastels creating a winter landscape.
Please Note
2 April 2020
Sorry to say, like everything else at this time, we have had to cancel the meetings till further notice. We hope to rebook every meeting that has been cancelled later.
We have started to receive photos for the painting challenge that is going out on Sundays and will be posting them here in the Painting Isolation section. Looking forward to seeing your endeavours.
Hope you all stay well.
BAS committee
3rd April 2020
Ian McManus
paints boats with watercolour.
1st May 2020
David Fletcher's
talk is entitled 'A Few of My Favourite Things – with a Bedford Slant'.
5th June 2020
Jan Munroe
paints a still life picture using pastels.
3rd July 2020
Caroline Furlong's
subject is Fieldlines – a landscape in mixed media.
(Followed by a workshop on 4 July).
11th September 2020
Christine Lafon
paints a portrait in mixed media.