Annual Events Programme 2022-2023
Monthly programme of talks, lectures & demonstrations.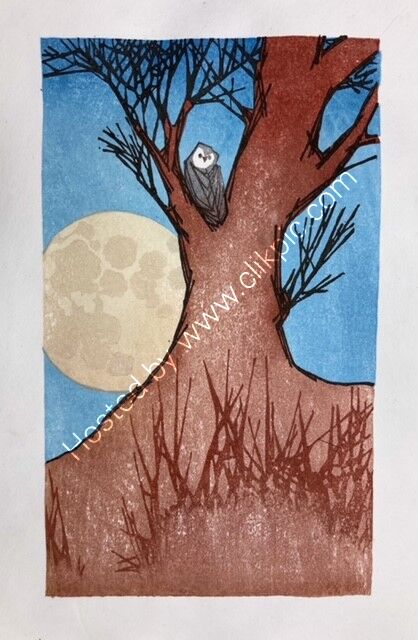 All meetings held at:
Putnoe Heights Church & Community Centre
Putnoe Heights, Bedford MK41 8EB
Doors open at 7.15 for 7.30 pm.
Members free - non-members £5
9 September 2022
NICKY HUNTER
Flowers in watercolour
Nicky Hunter is an artist specialising in watercolour, based in Buckinghamshire, working and teaching from her art studio at the unique creative Westbury Arts Centre in Milton Keynes.
She is well known for her signature large scale contemporary watercolour floral paintings, but equally inspired by a range of subjects, aiming to capture them in a vibrant and expressive style.
The development of her painting and illustration skills and foundation for her love of painting flowers came while studying for a diploma in art then a degree in textile design, with a varied and successful career as a textile designer, creating printed patterns for international fashion designers and well known British and global brands.
Her enthusiasm for watercolour is evident in her artwork which has been exhibited at The Gallery, Holt - a distinguished gallery in Norfolk.
7 October 2022
AGM Meeting and ANNE-MARIE ABBATE
Collage
"Throughout my life I have immersed myself in all areas of art. My practise focuses on a multidisciplinary approach through sculpture, print, textiles, painting and collage. I explore environmental themes and I have an affinity with discarded and found objects, studying their history and bringing them back to life to allow them to have a second chance of survival. I am extremely resourceful with my materials."
Anne-Marie works from two studios in her hometown of Bedford. She has worked with private collections around the world and exhibits regularly. She is curator for two galleries in Bedford - The Basement at Bunyan and Bluebell Gallery at Bedford Hospital and is a member of the International Feltmakers Association, an Art Award Supporter and certified Cultural Provider in The Culture Challenge.
4 November 2022
ANDREW FORKNER
Pencils
At the start of his career Andrew produced mostly illustration work, drawing birds and animals for journals, magazines and books. A self-taught wildlife artist, he works in a variety of media, including graphite pencil, coloured pencil, acrylics and pastel to complete his originals.
He has produced several commissions for the RSPB. He is a keen naturalist and has travelled in both this country and abroad in search of wildlife. His artwork has also travelled widely, with examples of his art in collections in the UK, Europe, Kenya, Canada, USA and Nepal.
Andrew is a signature member of The Artists for Conservation Foundation and also a member of The Wildlife Art Society International. His work has been displayed at many British venues including Nature in Art at Gloucester (where he participates in their "Artist in Residence" programme and runs drawing workshops), The Mall Galleries, Christies, Sotheby's, The Artist and Illustrator's Show at Olympia and Galleries at WWT Slimbridge, Arundel and The London Wetland Centre.
Andrew draws his inspiration from a multitude of sources, either through direct experience of a species or its surroundings, or from the indirect influence of his own sketches and photos.
He enjoys using a limited palette which can produce both subtle and dramatic effects and when using graphite pencil he takes this process to its ultimate extreme. The absence of colour means that he must search for other aspects (e.g. pattern and shape) to give his work life and interest.
2 December 2022
RONNIE IRELAND (Zoom)
Take 6 landscapes
Born and educated in Glasgow, he graduated in Drawing & Painting. Then he tool an Honours Degree with The Open University, majoring on 20th century Arts, History and Philosophy. He has exhibited in Scotland, Northern England and now mainly in the Home Counties, where he has lived for the past three years.
His main influences come from the Old Masters coupled with theatre, film and photography. He tries to integrate these potent sources in making intriguing, often mysterious images that provoke a reaction in the viewer. His own work is usually allegorical in nature, whether featuring the human figure (his main subject), landscape or still life. It always leaves space for the viewer to enter into the picture, developing their own ideas with whatever narrative he has implied. His work is mainly for private collectors, often commissioned for home or office to a theme which interests them.
6 January 2023
VIC BEARCROFT (Zoom)
Scribbling an elephant in pencil
Vic is a professional wildlife and pet portrait artist, who specialises in pastel on velour, but also works in pencil, watercolour, coloured pencil, charcoal, oil and acrylic media. Having spent part of his childhood in Kenya, Vic has been drawing animals since he could hold a pencil. Being passionate about wildlife in general - particularly wolves - enables Vic to work with a large number of animal welfare and conservation organisations worldwide, donating prints, merchandise and funds. Winning best in show at his first ever wildlife art exhibition, Vic has gone on to win further awards for his work, including the prestigious 'Endangered Species' category in the 2012 BBC Wildlife Artist of the Year competition.
"While I consider myself to be a wildlife artist, I prefer to paint close-up intimate portraits of animals as individuals, rather than in landscape settings. My aim is to capture not only the likeness of the subject in my painting, but also the life and soul in its eyes. To me, eyes are the most important aspect of a portrait – human or animal. People tell me they can see my paintings come to life through the eyes."
3 February 2023
ANNEKA SLATTER (Annie)
Calligraphy
Annie is a calligrapher and letter artist. She stumbled upon modern calligraphy when she saw a friend post that she was at a workshop. For the next week she spent hours looking for tutorials.
Fast forward one year and she was well and truly hooked! All her work is hand lettered either on her iPad Pro, using Procreate or by using good old fashioned paper and a selection of pens and nibs - it's amazing how much you can accumulate over the course of the year! The best part of learning this skill is that she's found a passion for something to love and it's the best feeling!
Lettered by Annie offers a range of beautifully bespoke custom stationery, home decor and wedding items including invitations, on the day stationery and signage, all hand lettered in her own modern calligraphy and brush lettering style.
She also teaches Modern Calligraphy and Brush Lettering Workshops in and around Bedfordshire and Buckinghamshire, sharing her knowledge and love for this beautiful craft.
3 March 2023
CAROLINE FURLONG
Mixed Media Watercolour & Ink
Caroline loves painting, both indoors and out. It does not matter whether it is of flora, fauna or something not girlie like at all. If it captures her imagination or even originates entirely from it, then out come the brushes and she is away. Her favourite topics though are landscapes, street scenes and coastal areas. She is now running workshops for art groups, giving demonstrations to art societies, promoting products for companies and running events for shops as well as showing in galleries.
7 April 2023
PAUL KANE
Charcoal
Based in his own studio and gallery since 2010 he has been developing his own works and producing commissioned pieces. More recently he has enjoyed teaching on a 1-2-1 basis along with carrying out workshops and demos to larger art groups, working in various mediums and covering a variety of subjects including portraiture, landscapes, seascapes and murals.
His art has hung in The Mall Galleries, Trafalgar House and been presented in a number of solo shows plus successfully contributing to the Art 4 Africa shows in 2016 and 2018.
He has sold art all over the world.
His approach to commissioned work encapsulates 'Imagination made real'. Clients can place anything within the landscapes or composition giving the work a highly personal meaning. The limits really are bound only by imagination.
5 May 2023
FROGMORE PAPER MILL
Paper
Frogmore Paper Mill is operated by the Apsley Paper Trail, a charitable trust founded to conserve the unique industrial heritage of this site in Hemel Hempstead.
In 1803 Frogmore Paper Mill was the place selected by Henry and Sealy Fourdrinier for the trials of their newly patented paper machine. Thus began the paper's industrial revolution leading to the cheap, plentiful paper products that we all use every day of our lives.
Frogmore is still a working paper mill but, as operated by the charity, it is also a visitor, education and community use centre as well. The trust is entirely self-financing and, of course, is not-for-profit with all proceeds from its activities being re-invested in the repair, maintenance and development of the mill and its historic equipment.
2 June 2023
OLIVER WINCONEK
Oil and acyclic portrait
Oliver Winconek currently resides in Cambridgeshire. He works as a full time portrait and figurative artist on his narrowboat studio which he is currently renovating. His preferred medium is oils although he often works in watercolour, graphite and charcoal. "I love the fluidity of oils as well as their strong, robust textures. It's easy to feel that you're almost carving the portrait out of nothing when you're applying paint to the canvas". Oliver is fascinated by people and the human form and has dedicated a large part of his practise to painting portraits. He seeks the majority of his inspiration from the music he constantly listens to when he paints. "For me, silence is the enemy of a creative mind. I need music to charge me up and give me energy. Without it I am too self-conscious and considered when painting". Oliver was on Sky Arts Portrait Artist of the year 2017 where he painted Trevor Eve. His portrait of the marathon runner Iva Barr was shortlisted for the Royal Portrait painter of the year annual exhibition. During his career, Oliver's work has been exhibited at various locations around the world including The Royal College of Art and the prestigious Saatchi Gallery.
7 July 2023
KEITH HORNBLOWER
Perspective & drawing techniques
Keith has worked extensively with architects for over 20 years as an architectural illustrator and is a Fellow of the Society of Architectural Illustration. He's self-taught, both as an illustrator and artist. His watercolours of architectural subjects are now in much demand and appear in private collections worldwide, and his subject range has now expanded to include everything from landscapes/streetscapes to flower paintings. His paintings are quite separate from his illustration work. Although they share the same medium, with the former he is free to explore the medium to its limits without the constraints of a client's wants and needs.
His approach is dynamic and spontaneous, applying paint at speed, moving and adjusting washes as he progresses believing the pursuit of perfection is a fool's errand; it cannot be achieved by mere mortals and it's the imperfections that make art interesting and personal, revealing the artist, warts and all. Light and shade – tonal values – are everything, using colours for dramatic effect rather than trying to reproduce them literally, thinking mainly in terms of warm and cool, and often working with a simple triad of primary or secondary colours.
He finds watercolour a medium of endless possibilities and feels as though he's just scratching the surface.
1 September
Carand'ache pastels with John Birch